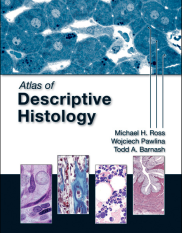 Description
Purchase/Access Instructions:
Register for a Learning Link account or log in to your existing account:
After you are logged in to Learning Link, come back to this page.
Under "Need access to 'locked' resources?" below, follow the link to register with your access code or purchase access online.
You will receive an email confirmation from support@sinauer.com. Click on the link in that email to be taken to a Sinauer account registration page.
On completing the form, you will be asked to go to histology.sinauer.com. Log in using the same email and password that you just inputted into the form to access the resources.
---
Provides the purchaser with access to the companion website for the life of the current edition.
Site is available at histology.sinauer.com.
The Atlas of Descriptive Histology is the most comprehensive histology atlas available. It covers all tissues and organs, each subject prefaced by introductory boxed text. Full-color high-resolution micrographs, gathered from colleagues both domestic and international, provide superb image quality. By showing images of the same area at successively increasing magnifications, the book provides students with an experience similar to that they would get from an actual microscope. Careful descriptions of each micrograph include those details a student should be able to recognize.
Need access to 'locked' resources?
Please login to view purchased products or purchase new ones.